I have a confession to make. I am a fraud.


People talk to me.
Professional traders.
Aspiring traders. Hobbyist traders. People just kinda sorta interested in trading. Crypto-fiends asking me about bitcoin. Regular people asking me about where the stock market is going. Analysts pitching me ideas, hoping to get a fee for winning trade ideas. Progammers pitching me their services for automated strategies
, with me getting a split of the profits.
And I think about that fact and I am in disbelief…oh my god, why me?
I have twitter, a blog, and I was on a podcast once. Here's a clue guys: I don't know anything. These interactions where I am the giver of wisdom and advice… it all makes me feel an actual authority on trading when I am anything but.
If only these people knew what I knew.
If only they could witness, live, my complete and utter lack of composure, in real time. That
I say one thing and do another. I am not someone to listen to. If only you could see the trade I just made two minutes ago and how absolutely poorly thought out and impulsive it was.
I am a fraud.
Okay, let's take a breath. My mind goes to dark places.
I am a fraud.
I am a very flawed trader…
I never wanted this blog to sound like an early 2000 junior high student's xanga.
You ever read someones blog and feel utter disgust at all the raw emotion being vomited out onto the page? Privileged person has first world problems, big deal. Too much emotion can be cringe worthy. You know how many times I've written something hyper emotional after the lousiest trading day ever just to delete it because I think about people reading it and thinking about what a crazy mess I am? Many, many times. I wanted my blog to be so much more
—
web comics, fun listicles about famous traders, stories about prop trading. A place where traders could learn and laugh. But I just can't get them done because I'm a fraud flawed writer. I can't execute to my standards. My FNMA post got 100k pageviews and I have all but squandered that momentum. But now it's time to face reality — I am a hyper emotional trader and this blog is now about to be hijacked by my irrational internal drama.
I am in the worst 12 month emotional cycle of my trading career. If you want a snapshot, it's below.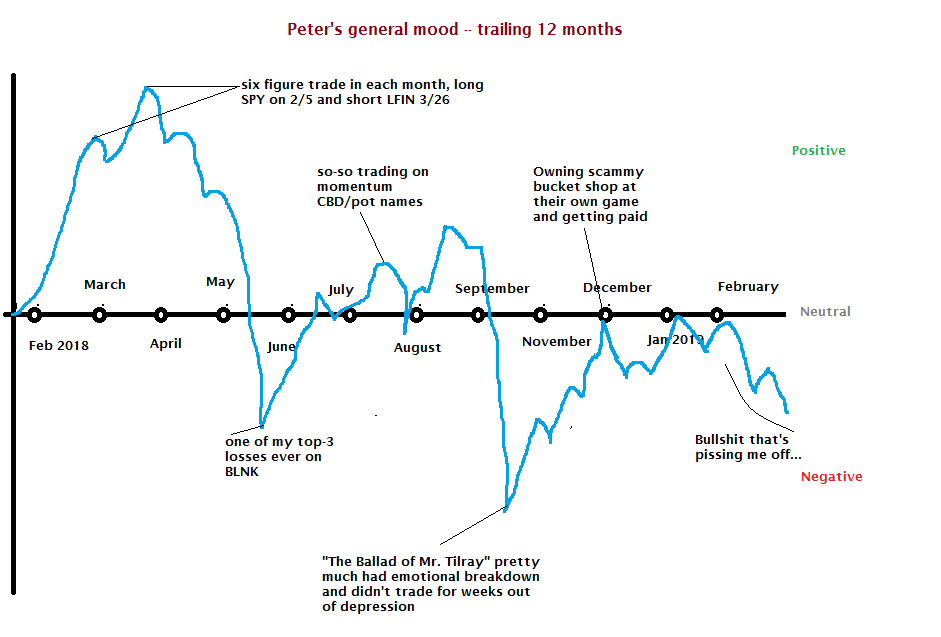 Keep in mind this isn't a profit chart.
14 out of my 30 largest losses in my entire career have occurred during the last 12 months. I wish I could say these losses were just a byproduct of taking increased risk on great trading ideas that were unfortunately proven wrong but I don't a single one falls in that category. It's almost entirely a calamity of errors and emotional trading. Since the two huge home runs in Feb/March, my highest winners haven't exceed my largest losers. Since September when my confidence completely fell apart, what I label as "large winners" have almost completely dried up. Since the start of 2019, my 5 largest losses are larger than my largest gain. It didn't use to be like this at all. I am still profitable month to month and mostly week-to-week and that's my only saving grace.
I have gone from thinking I made a huge leap in my trading to this sad, depressing purgatory where I'm not quite losing money but if I try too hard—which I inevitably will—I get absolutely put in my place by the market. If I put my head down and don't try too hard, I can grind it out.
There's so much drama and self-loathing in my trading. And I think it's just a phase. It's always been just a phase, an outlier, and then things get back to normal. Winners stay larger than losers. Large losers are rare. Sanity stays in tact. Then it does get back to normal… for a few days, maybe even weeks… until it doesn't.
So now I'm starting to think—this might be the new normal.
Maybe this has always been me.
Impulsive.
Dramatic.
Angry.
Self-centered.
Egotistical.
Unbalanced.
Off-kilter.
Flawed.
Broken.
Here's a sad truth. I don't work hard anymore. I haven't worked hard since like… 2015? I am describing all my mistakes and you know what I want to do about it? NOTHING. I want to ignore it and pray that sane me shows up for the trading day. I used to look at my end of day results religiously and now I'd rather jam a screwdriver in my eye. What used to be an every day habit is something I actively dread. It's like looking into a mirror to see how ugly you truly are.
You chased that far? SHAMEFUL.
You got in an out of that trade in 49 seconds. WHAT WAS THE POINT?
LOL at being that slow to cover against a squeeze. Embarrassing.
Why even bother working hard? Nothing will ever change.
Growth mindset… Pfffft
Getting better every day. Psh.
Healthy habits and best practices… fuck that noise.
You're the same guy you were 10 years ago when you started. Same idiot who rage quit DOTA matches in college, screamed at bad beats in home poker games, and threw nintendo controllers at TV screns. You love this shit. You love the self-loathing and the wallowing in self-pity. You want to be angry.
New trading day. You do something dumb. You swear to yourself NEVER AGAIN and then two weeks later you forget "never again" and surprise, surprise, you do it again.
Hey, buddy, let's not fuck around next time with the "never again" ok? It's kind of insulting to keep deluding yourself with this totally hollow bullshit. Just fucking do it again already and feel like an asshole because in some sick way, maybe this is what you want. You want to bring yourself to the brink, over and over and over.
Risk it all already. Blow it all up. You've never done it, don't you want to know how it feels? All the Market Wizards say it's supposed to happen at the start. Maybe I'm a screwup because I skipped this necessary baptism. Whatever happens, you're going to getting something out of it.
You finally have your much needed "Come to Jesus" moment, get your act together, and maybe make the elusive leap that you've always wanted.
You quit trading for good because the loss was too traumatic. You know what?! Good. This shit makes me so unhappy, maybe I should just quit for good. I'll start a chatroom to pay the bills.
Maybe you get lucky on a ton of risk and make a lot of money?
That's extreme. I'm not actually deliberating this. It's one of those perverse "lingering thoughts" like what happens if I jump off this tall building? I'm not going to do that.
The reality is far less dramatic. Negative thoughts make me depressed. How do I trade when I feel depressed? I actively try to sabotage any attempt at "trying too hard". Stay up as late as possible. Wake up maybe 10-20 minutes before the opening bell. Watch NBA highlights until 9:30. Don't go over any charts. Don't look at the news. Be ok with not trading at all because it sucks and it makes me sad. Find some stupid layup trade with small risk, take it with no expectations, walk into easy money, feel a vague pang of dissatisfaction maybe you could've made more, and then repress it by watching more YouTube or Netflix.
That's how easy it can be. I have been doing this for awhile. And that's why, despite all of this melodramatic writing that would make a casual reader think I lost all my money in some massive catastrophe, I still make money. I wish I could be this person all the time. I wish I could teach this person to actually be positive and grow and learn to love this job again.
My mental game is completely toxic right now and I don't know what to do to fix it. This is not a solicitation for your advice. Ask me what else is going on in my life—almost everything else besides trading is great and brings me joy and fulfillment but that doesn't make for fun writing does it?
This is not a post to suggest "this will happen to you too" post if you decide to trade for a living. I know plenty of level headed traders and they make me so jealous. I often have to reign in the urge to punch their stupid, happy faces.
I don't know how to neatly end this post. I'll write more tomorrow.