I have a bit of an edge to me–an angry edge. Had it ever since I was a little boy.
If I were writing a screenplay lionizing my entire life, I would cast it in a positive light. It's the chip on my shoulder. It's the drive to be great. It's the fire within.
There was that time in 6th grade playing pickup basketball during lunch. Sean McFarland was throwing elbows while posting up and giving me not-so-subtle two handed shoves to grab the rebound. He only did this to me, I swear. Mr. Little League All-Star Athlete with all his trophies playing dirty like he's Bill Laimbeer. That piece of shit. He's been picking on me for years now–not just physically on the court, but taking jabs at me. Asking me why I didn't participate in PE–maybe I was just faking it. Asking me if I need to wear that brace for my medical condition. Just these little things he'd say because he thought I was a weakling. I had enough.
I charged at him and forearm-shoved him to the ground. Asked him what's up.
What's your problem dude?!
I still remember his face. He was shocked. He reacted like a whiny little bitch.
Nothing! Fuck you!

Returned a little bitch shove that knocked me back a half step. Nothing else. Pfffft. That's all you got?
When lunch ended we shook hands and that was that-we never had a beef again.
I stood up to a bully. Knocked him on his ass, demanded respect, and was given respect.
That's a good story. That's a narrative that can sell.
But I'm not writing that screenplay. I'm not that cool. This is a blog where my most popular post was about me losing 6 figures in a trade in the dumbest way possible. It's about me being an idiot.
There's an ugly side to this edge.
There's the time I rage-reset the Super Nintendo and said some not-so-nice things to my sister because she was obliterating me in Mario Kart over and over. I was 7 years old.
There's the time I threw the remote at my cousin because the Blazers were beating the Lakers and he was rooting for the Blazers (traitor!) and smiling at every basket made. Rasheed Wallace would have been proud.
There's the time a classmate from high school hit a runner-runner straight to bust me in a home poker game and I threw such a nasty tantrum that they didn't want to invite me over anymore.
There's the dent in a waste basket that I kicked over and over again at the prop trading desk.
There's the hole in the wall at my old apartment in FiDi.
Spoiled, entitled brat all pouty because he doesn't get what he wants. That's the picture being painted there.
I really hate losing.
I hate it.
It just wrecks me on the inside.
No one is supposed to like it but I wish it didn't wreck me to the core like it so often does–to the point where I stay up all night until I exhaust myself because I don't want to go to bed and I don't want to go to bed because I don't want to think about the next day and what the next day is going to do to me (hint: it's gonna wreck me because I'm a loser and I'm going to lose).
Among my many flaws, my shakiness with handling loss is maybe the worst. Oh I'll take a loss. I'll be disciplined. But then I'll pout. You watch.
The Next Day


Why am I even writing all this? The same reason so many traders blog about stupid personal shit–because they took a big loss. Except in my case it's more like a large "giveback"–a larger than normal profit turned into fairy dust. I am literally the day's top tick to cover. And then the stock trades back to the lows. It certainly feels like a loss to me.
Now here's where stupid twitter traders with their motivation memes say "oh gee golly I messed up but tomorrow is a new day hooray I love my job #trading $AAPL $TWTR $DRYS".
Fuck that shit, I am going to take this very personally.
The market gets to live rent free in my mind.
I'm the little bitch who moved his stop to break even and got ticked out.
I'm the idiot who didn't take any profits on a big move
I'm the little bitch who swung for the fences but didn't have the heart to stay with the conviction and sit through the swings
I'm the idiot who said he wouldn't trade these nasty "hero setups" anymore but didn't have the character to stay true to his word
NINE YEARS YOU'VE BEEN DOING THIS AND THAT'S THE BEST YOU CAN DO? ARE YOU KIDDING ME? YOU'RE A JOKE. YOU'RE A WORTHLESS FRAUD.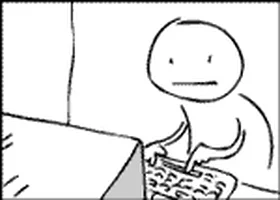 Ugh.
There are 6am next days, 8am next days, and 9:29 next days.

6am. I can't have ENOUGH of this market! I LOVE IT!!!
8am. Clock in, check the news, do your thing. All professional.
9:29am. I hate trading.
Tomorrow is gonna be a 9:29 day.
I hate losing.
I hate the next day.